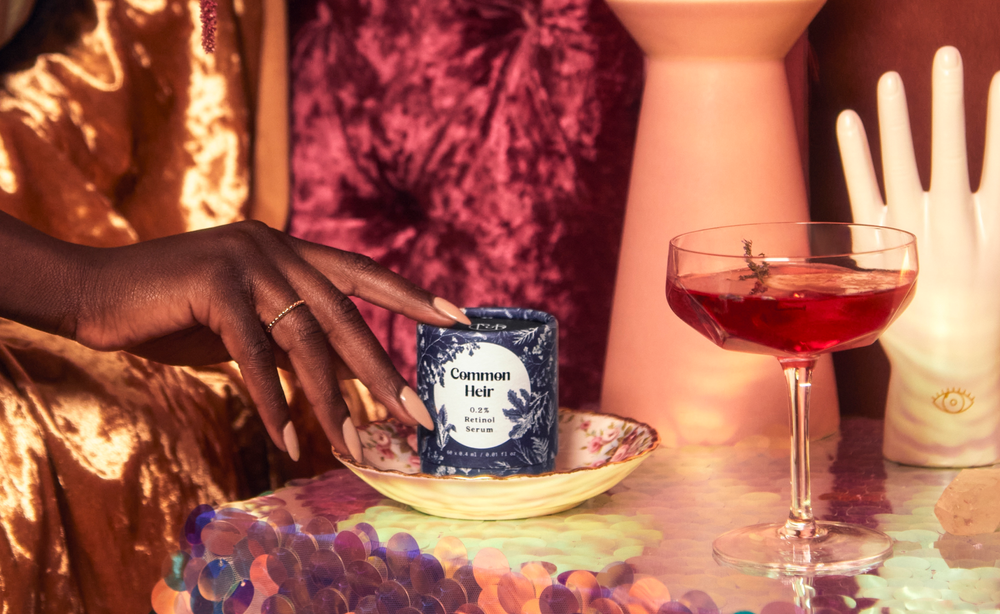 clean beauty, Founder Note
REINTRODUCING COMMON HEIR: OUR MANIFESTO
Feb 14, 2022
Ten months ago, in a flurry of excitement, nerves and determination  (alt: butterflies, fear), we launched Common Heir.  We were finally able to share our vision — one of legacy and of luxury beauty as it should be, intentional, sustainable and inclusive by default. Our 'meet-cute' for the modern age has been retold by incredible storytellers (see: here and here) and our phenomenal community. A community who has helped bring our vision of beauty to a reality by embracing us — we wouldn't be here without you. 
Now, we're delivering in a way we always set out to — by creating what you, our beloved community, actually wants. The most highly requested product is here — a dream come true retinol serum. We've always known that reimagining retinol for skin like ours was where we could make the biggest impact, and here's why:
Common Heir has always stood for a shared sense of purpose and inclusion from the get-go. 
We are two very different people with a shared vision of changing the beauty industry. We want to see gorgeous products for all — not just some. Formulas designed for all skin types and tones, that are approachable & efficacious. Cary has tried almost every form of retinoid (prescription and over-the-counter), and Angela avoided retinol for the notorious side effects, including the harshness of transitioning onto a retinol with sensitive, melanated skin. This felt like the right opportunity to change that, and we took on the challenge of making a retinol serum luxe, approachable, and effective for skin like ours (and yours!)
We're keeping our "performance without plastic" promise.
We don't do it to be cute or kitschy. Our retinol shelf life has extended stability because of our plastic-free biodegradable capsules, and of course we continue to honor that promise by creating incredibly gorgeous textures without compromising our commitment to thoughtful design, from sourcing to delivery to your top-shelf.
We took on the challenge of reimagining retinol, and decided to change its reputation for being less approachable, especially for melanated skin and skin that is prone to sensitivity, despite the often-touted benefits.
Who is this for?
We created this formula for all with melanin in mind, knowing firsthand that most retinol formulas come with harsh side effects that detract from the scientifically proven benefits over a prolonged period of time. We've long realized that the current information (and experts!) are mixed on how best to approach retinol for melanin-rich, hyperpigmentation-prone, and sensitive skin, leaving us determined to test this in clinicals AND take a community-based approach to fill the gaps. 
Introducing your new favorite nightcap ritual:
Approachable for your first or the glow up to your go-to, we reformulated retinol with the skin-renewing benefits you want and the harsh side effects you don't. For all skin colors and skin types. Time-tested Vitamin A is boosted by smoothing botanicals that detox and repair skin, while squalane and algae oil nourish for clinically-proven results without irritation. (All in a plastic-free capsule that protects potency and extends shelf life up to 18 months!)
Gentle and Powerful:

The gateway if you've never tried and the glow up if you have, we reimagined a retinol that could work for all. Formulated at a gentle 0.2%. Boosted by botanicals and balanced with nourishing squalane and algae oil your skin loves. Almost unbelievable if you've tried the others, approachable if you haven't, dreamy for everyone. 
Retinol for All:

We believed this transformative skincare staple could be reimagined to benefit all skin colors and types. In formulation, we tested approachable concentrations and ingredients that boosted retinol's benefits without irritation. In clinicals, we pushed for trials on darker skin when there were few to none. The results: a retinol for us all, formulated with melanated skin, sensitive skin, your beautiful skin in mind.
The First Plastic-Free Retinol:

Continuing our commitment to make high-performance beauty sustainable, our seaweed-based capsules are biodegradable and melt in water. The single-serve pods protect retinol from oxidizing, retaining the potency it loses in pumps or droppers. Packaged pretty in a compostable box, make room for the world's first plastic-free retinol on your bathroom shelf or boudoir.
Here are the results:
We were blown away by the feedback from our clinicals just at the 6-week mark, and here's what they said:
96%

said they'd recommend it to a friend.

88%

said their skin felt firmer, nourished, and replenished after using the serum and reported higher self-confidence. 

83%

said it helped smooth the appearance of fine lines and visibly transformed their skin. 

79%

saw an improvement in their dark spots, skin clarity, and wrinkles.
Our earliest community members helped us put it to the test, and here's what you had to say:
I love the delivery, the texture... my skin is smooth and firm and no counter-reactions with my moisturizer. Actually I felt more hydrated. You have my vote, and yes I would totally recommend this to anyone who is concerned about maturing skin and advise this product as part of their routine!

— Enzie D.

I have to say I was blown away by this product. It was very strong at first and I used it every other day, but I saw the changes after the first week and I'm blown away by this product. In combination with the 10% Vitamin C, it's a one-two punch for anti-aging. I even use it on my neck.

— Melissa C.

I love it! It's the first one that doesn't thin my skin (which is the main reason why I stopped using retinol). I love the texture of it and the slight glow I get from the product and it hasn't irritated my skin. I use it every other night and for the first few uses, my skin did tingle a bit, but nothing that was alarming or painful. I actually like the tingly feeling because I feel like I can FEEL the product working.

— Chelsea E.
With this launch, we hope to spark conversation and change.  
We're so proud of bringing this retinol to life in a way that is true to our ethos, and can't wait for you to try. 
xx,
Cary & Angela